With the recent addition of Secure Reliable Transport (SRT) protocol support in the Miris Capture 2.6.0 product update, UbiCast continues to strengthen its position in network video technologies.
Since our first product in 2007 (the venerable Studio/Campus), we were among the first to investigate the use of the IP network for video transport by integrating the RTSP protocol for automated audiovisual applications.
The advantages are multiple: use of a single standard RJ45 cable for video transport, control and sometimes even power (where a broadcast turret camera traditionally required an SDI cable for video, a power supply and an RS232 or network cable for control), mutualisation of the network infrastructure often already in place (classic computer switches), cost reduction (intermediate quality between webcam and broadcast camera).
With this in mind, we came up with Miris Netcapture, designed to work entirely with IP-based audiovisual sources over the network, and deployed in our clients' datacenters.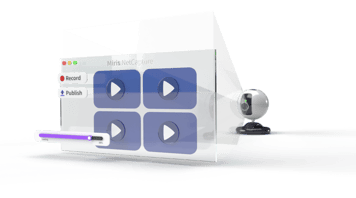 We then integrated Newtek's NDI protocol in 2020, and we are now adding support for the SRT protocol for video sources to our Miris Capture solution (Miris Box and Netcapture).
This protocol, initiated by the industry's Haivision and now supported by the SRT Alliance, fills several of the gaps present in NDI and RTSP (or at least in most existing implementations):
they are designed for use over a (supposedly reliable) local network; for example, although the RTP protocol has extensions that allow a receiver to retransmit lost packets, almost all IP cameras on the market do not implement it
neither of them implement encryption, at least not in almost all available implementations
SRT overcomes both of these problems, allowing both scenarios where the video sources may be at remote sites (over the Internet), and also securing the transmitted streams (through the use of a shared secret).
Fortunately, like RTSP/RTP, SRT is an open and easy-to-integrate technology, so most network camera manufacturers tend to integrate it into their latest product generations at no extra cost (which cannot be said of NDI).
By adding this new protocol to the list of protocols supported by Miris Capture solutions, we can continue to meet some of the more demanding security and flexibility requirements!